Negli ultimi venti anni l'istituto Californiano di Tecnologia nel laboratorio di Propulsione Jet è divenuto uno dei primi centri mondiali per la ricerca sulla determinazione di orbite precise.
Il gruppo GPS Navcom Technology e JPL hanno creato un sistema per operare in tempo reale per produrre correzioni DGPS di alta precisione per ricevitori di navigazione GPS a doppia frequenza.
Il sistema attualmente opera usando una rete di 28 centri di calcolo e ricevitori sparsi in tutto il mondo, che fanno parte della Rete di controllo GPS a Terra (CGN) NASA/JPL.
Mentre il sistema di StarFire attualmente produce solo le correzioni di clock per ogni satellite, il sistema JPL genera clock e le correzioni dell'orbita per ogni satellite come pure correzioni della troposfera per i siti del riferimento.
Indirizzando tutte le sorgenti di errore del WADGPS, il sistema JPL fornisce la massima precisione di navigazione e un singolo set di correzioni mondiali per i tutti satelliti.
JPL ha pubblicato numerose documentazioni tecniche circa il sistema e la tecnologia. Il sistema di correzione e gli algoritmi trattati sono chiamati Real Time Gipsy (RTG).
John Deere, attraverso Navcom, ha ottenuto da JPL la licenza esclusiva della tecnologia Real Time Gipsy (RTG), incluso software ed algoritmi.
John Deere, attraverso Navcom, ha perfezionato un contratto con JPL e NASA per l'uso dell'intera rete a terra di controllo GPS (CGN).
Il successo di questo progetto è l'integrazione di tutti questi elementi e tecnologie differenziate nel sistema STARFIRE, che, già oggi, è in grado di garantire precisioni sempre inferiori a 10cm, in coordinate assolute WGS84, in qualsiasi parte del mondo in tempo reale.
Prove sviluppate nel mese di Giugno 2002 (con il sistema operativo solo al 70%) in 30 posizioni di coordinate note, sparse in ogni parte del mondo, si sono evidenziati scostamenti massimi di 7cm sulla componente planimetrica e di 21cm sulla altimetria.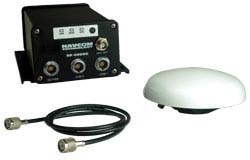 SF-2050G/SF-2050M GIS Sensor/Machine Control Sensor
Fully integrated StarFire DGPS sensors provide worldwide decimeter level accuracy anywhere, anytime
NavCom's SF-2050G and SF-2050M model receivers deliver unmatched positioning accuracy to system integrators needing a cost-effective, high performance differential GPS sensor. These unique receivers use the StarFire™ Network, NavCom's worldwide differential GPS system, for instant decimeter-level position accuracy, anywhere in the world, anytime.
Unparalleled Performance The SF-2050 series is powered by proven GPS technology, the NavCom NCT-2000D advanced GPS receiver, which is integrated into thousands of receivers used in agriculture, offshore, and surveying. Furthermore, it incorporates several patented innovations advancing the existing GPS technology to the next generation. With a more than 50% signal-to-noise ratio advantage over any competing technology and the combination of interference suppression, multi-path mitigation, and measurement accuracy, these receivers set a new standard for GPS receivers.
Applications The rugged and reliable SF-2050 series provide easy integration of reliable and fast position updates into applications such as GIS data collection, data maintenance, ionospheric research, in-field data verification, topographic surveys, machine control and asset management applications. The SF-2050G is designed for backpack GIS and mapping applications while the SF-2050M is ideal for vehicle mounting to suit a wide variety of machine guidance and control applications.
For optimal performance, NavCom provides a specially designed tri-mode antenna; however, the receiver offers the versatility to interconnect with a variety of antennas and other application-specific instrumentation and configurations. The user provided mapping device simply connects to the serial port and is ready to receive the position data in either NMEA format or NavCom's proprietary format.
The receivers offer several different operating modes for maximum flexibility and reliability. The primary mode uses the StarFire™ differential service, for immediate results in the field, great for navigation and relocation of existing assets. When not operating on the StarFire™ Network, the SF-2050 receivers offer sub-meter position accuracy by automatically switching to WAAS or EGNOS differential signals when available. Optionally, the user can record "raw" dual-frequency GPS measurements for post-processing, back in the office.
Flexible Interface The SF-2050 receivers are easily configured by the provided Windows®-based utility program. For system integrators needing maximum flexibility, the receivers offer a binary user interface that allows complete command and control of the GPS and L-band satellite receivers, thus enabling customization of the interface and receiver operation. Because the instrument can simultaneously receive DGPS corrections in various formats, i.e. RTCM, CMR or NavCom's proprietary format, the receiver is able to choose the optimum data source and provide seamless position output.
StarFire Network The StarFire™ Network is a global subscription service for the distribution of differential GPS corrections providing exceptional reliability and unprecedented accuracy of better than 10cm (4 inches). The StarFire™ DGPS corrections are broadcast via Inmarsat geostationary satellites, thus eliminating the need for local reference stations or post processing. Furthermore with the worldwide coverage of the system, the same accuracy is available virtually any where on the Earth's surface on land or sea from 76ºN to 76ºS latitude.
Features "All-in-view" tracking Global decimeter-level accuracy using StarFire™ corrections Fully automatic acquisition of satellite broadcast corrections Rugged and lightweight package for mobile applications Accepts external DGPS input in RTCM v2.2 or CMR format L1 & L2 full wavelength carrier tracking C/A, P1 & P2 code tracking User programmable output rates Minimal data latency 2 separate WAAS/EGNOS channels Superior interference suppression Patented multipath rejection Supports NMEA 0183 v3.1 messages Self-survey mode (position averaging) CAN bus interface (SF-2050M Only) 1PPS Output (SF-2050M Only) Event Marker (SF-2050M Only)